Maizières Castle: A castle steeped in history
The former conventual house, once the residence of the lay brothers, became a private castle when the Abbey was sold as a national asset during the French Revolution. This exceptional place exudes history: the monks lived in it for centuries before the monastery was largely destroyed by the Revolutionaries and successive owners. Since acquiring the estate, we have restored and transformed this ancient 12th-century mansion into an elegant and refined venue of over 1,400 square meters.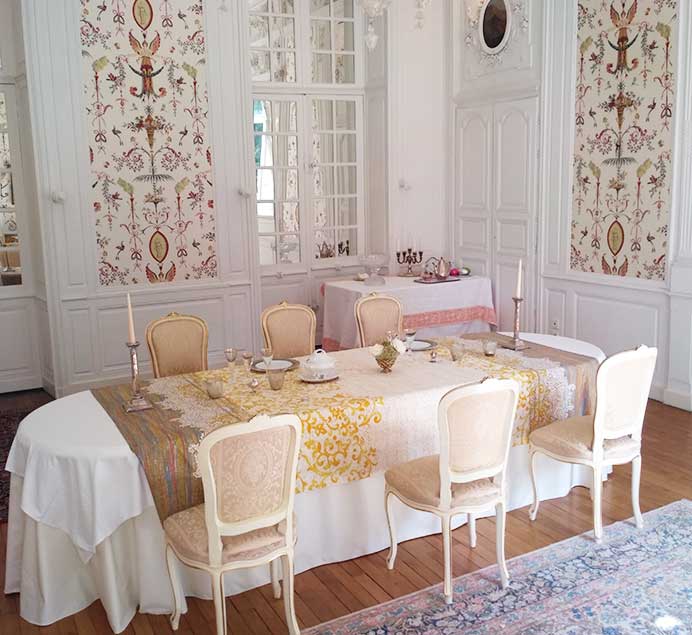 Live the life of a lord, with all the latest technology
The jewel of the estate, the Castle features 7 suites with light tones and floral patterns. The 120-square-meter apartment suite will make you experience the life of a lord while being equipped with the latest technology.
The Castle also has two large VIP lounges, a fully equipped kitchen opening onto a double dining room for 40 guests, and a library lounge.
In addition, our unusual accommodations located in the park, under the trees, can accommodate more than 25 people (Monks' Village). Each hut is equipped with a double size bed, a trundle bed and a bathroom area.
A beautiful park with hundred-year-old trees
Stunning annexes (a swimming pool), a period well, the monks' walk, a pond, a watermill, a paddock, the garden of Eden (a monastic garden), the chapel, not forgetting the vineyard and the orchard: these are just some of the many attractions of the 9-hectare park. It is all the more delightful as it is surrounded by an authentic stone wall ensuring peace and privacy.
Lastly, the Orangery is one of the very few places in the region that can host up to 400 people at the same time in excellent conditions. It is the ideal place to organize weddings, seminars and receptions.
There is no doubt that your stay at Maizières Abbey Castle will be remembered for a long time to come!