Your dream wedding at the Domaine de l'Abbaye de Maizières
Celebrate your wedding at the Domaine de l'Abbaye de Maizières, a magical place for an exceptional day. Come to the estate and enjoy a unique, discreet, fully enclosed, authentic and prestigious setting to celebrate the most beautiful day of your life with all the splendour you could hope for.
A unique enchanting setting in Burgundy!
Delimited by a stone wall allowing complete discretion for the bride and groom and guests, the 12-hectare property exudes a charm that captures the heart of all those who cross its threshold.
Come and discover the beauty of the site, explore its outbuildings, its period mill, the monks' walk and the pond, and take a stroll under the majestic hundred-year-old trees. Nestled between streams and copses, surrounded by a castle and a cloister, this unique and prestigious location is sure to win the bride and groom over!
You have the possibility to organize a bucolic reception or brunch, to take some memorable pictures or simply to relax in the Castle's park (9 hectares) or in the Abbey Palace (3 hectares).
The largest reception capacity in Burgundy!
Depending on the number of guests, you may choose to book the Orangery or the Great Hall, which can respectively accommodate 300 to 360 people and 150 to 180 people in a single room.
Both have all the necessary equipment (a large screen with a video projector, a sound system, a catering area, cloakrooms and sanitary facilities).
For a more intimate but no less sumptuous atmosphere, you can celebrate your union in one of the lounges of the Castle or the Abbey Palace.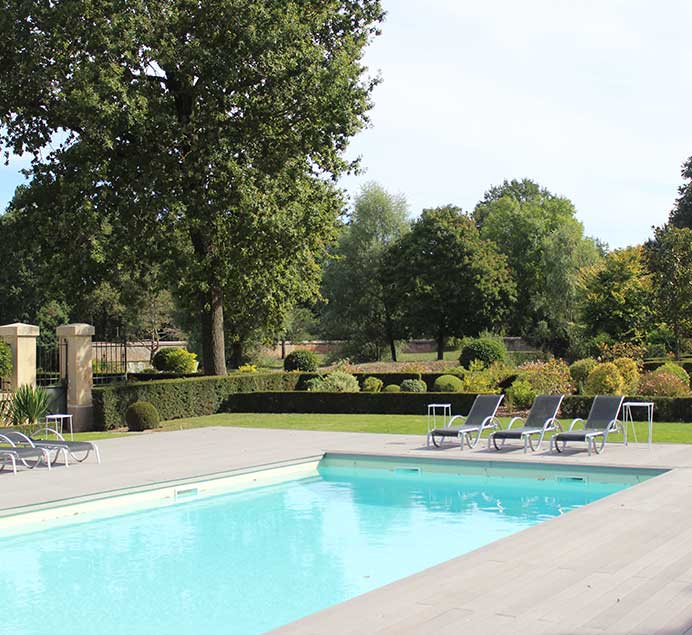 Relax in our 4-star accommodations
Family and close friends can be accommodated within the estate, which has up to 22 rooms:
5 stunning 4-star suites in the Abbey Palace, including one master suite accessible to people with reduced mobility;
7 luxurious 4-star suites including 3 master suites in the Castle;
10 unusual individual accommodations for up to 4 people in the Castle's park.
You may also enjoy the swimming pool, spa and pool house as well as the tennis court.
There are also many holiday rental properties and hotels that are less than 15 minutes away by car.
Your wedding at the Domaine de l'Abbaye de Maizières: top-of-the-range tailor-made services
We are at your disposal to help you organize your wedding. Enjoy the services included in the rental (breakfast on the Sunday morning, caretaker, cleaning service) or choose from additional "à la carte" services (valet service, caterer). You can also opt for the all-inclusive package and let us take care of everything.
For further information, do not hesitate to contact us.
We would also be pleased to introduce you to our many local partners, according to your needs: caterer, babysitter, winemakers, etc. (on request).