Your wedding in Burgundy at the Château du Domaine de l'Abbaye de Maizières
Looking for the perfect place for your wedding in Burgundy? The Maizières Abbey and its historic castle welcome you in the heart of nature, just a few minutes from Beaune. Succumb to the charm of a domain as romantic as it is prestigious and create a reception in your image. Green park, fully equipped rooms, 4-star residence and exceptional castle: everything is there to make this day an incredible event.
The ultimate wedding area in Burgundy
Nestled in the heart of Burgundy, the Domaine de l'Abbaye de Maizières is characterized by its peaceful atmosphere and sumptuous landscapes. Although it is now completely renovated, our estate is nonetheless a place steeped in history. It brilliantly combines elegance and authenticity, the ideal combination to host the refined wedding you have always dreamed of.
Fancy a secular ceremony outdoors or a bucolic wine reception? Indulge ! Dominated by a 12th century castle, this green setting constitutes an idyllic environment. Vineyards, ponds, mill, orchard, gardens ... A real backdrop of fairy tales, perfect for breathtaking wedding photos.
Established in the middle of the vineyard and protected by an immense stone wall, the vast property guarantees you total discretion on your wedding day.
An impressive reception capacity
Large wedding or intimate celebration, your reception in Burgundy deserves a place that meets your requirements. Let yourself be enchanted by our two reception rooms. Walls in freestone, oak frame and huge bay windows, the Grande Halle will seduce you at first glance. This enchanting space reveals a breathtaking view of the gardens, for an elegant meal. 150 people can be installed there. With an area of over 500m2, L'Orangerie is capable of accommodating up to 250 guests. Its strengths? Modern and bright, it is located in the center of a majestic 12 hectare park.
Beyond offering a magical setting, high-end equipment is included: lighting, sound system, catering area ...
Do you want a small ceremony, in a place as magical as it is romantic? Celebrate your union in one of the halls of honor at Château de Maizières: a moment of intense emotion that will be forever remembered.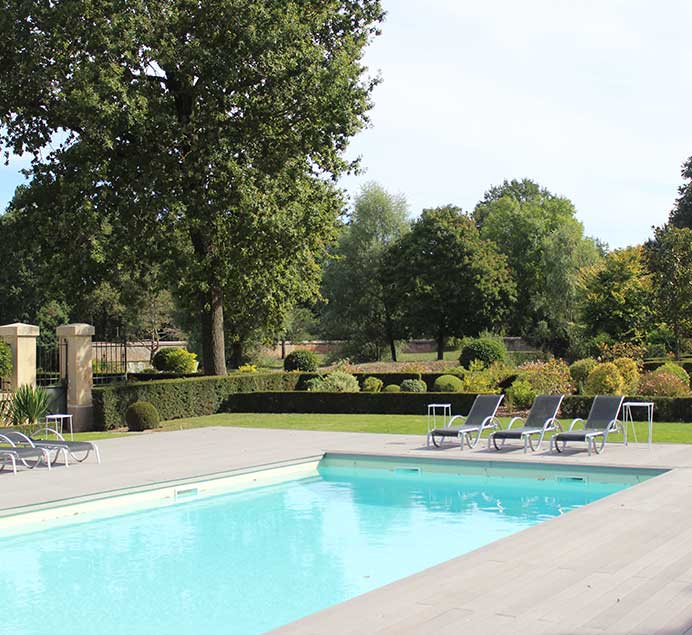 Organize your wedding in Burgundy with a dedicated team
Much more than a simple wedding venue rental in Burgundy, the staff of the Domaine de l'Abbaye de Maizières aims to offer you a unique experience.
Between included benefits and à la carte services (installation of furniture, breakfast, caretaker, cleaning, valet service, etc.), a wide range of prestigious services is available. We work hand in hand with trusted local partners, whatever your request.
We know how stressful planning a wedding can be, which is why we invite the bride and groom to support them throughout this wonderful adventure. Opt for tailor-made support:
Turnkey wedding: from the start of the preparations to the big day, professionals put their know-how and experience at your service.
Conductor: Make the most of the happiest day of your life! We manage your event from A to Z and make sure the party runs smoothly.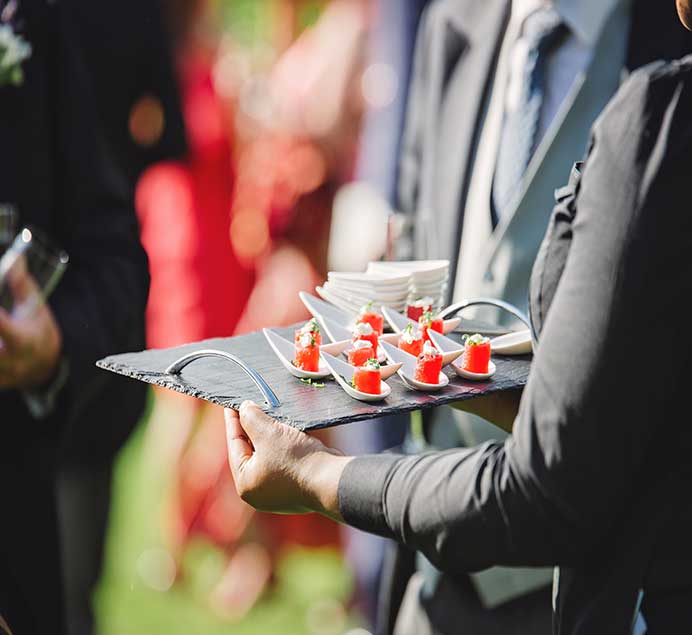 Getting married in Burgundy surrounded by all your loved ones
What could be more wonderful than sharing this step with the people who are dear to you? Make the festivities last by inviting family and friends to the Domaine de l'Abbaye de Maizières for a weekend. In addition to the 12 luxurious suites of the Castle and the Abbey Palace, there are 10 unusual habitats scattered around the park: a total of 58 guests can be accommodated in our 4-star accommodation. After a memorable evening, extend these moments of magic around a brunch and activities carefully prepared by our team.
Do you dream of a bubble of absolute serenity before the effervescence of D-Day? Rejuvenate as a couple: swimming pool, spa, tasting or massage, everything is there to make this stay an unforgettable memory.
Do not hesitate to download our 2021/2022 season brochure and contact us for more information on our estate for a wedding in Burgundy.